Are You There, God? It's Me, Margaret Hill is the 116th episode of King of the Hill. It was first aired on March 17, 2002. The episode was written by Sivert Glarum and Michael Jamin, and directed by Gary McCarver.
Synopsis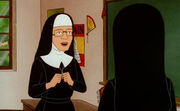 After not getting many substitute teaching opportunities at Tom Landry Middle School, Peggy begins working part-time with Hank at Strickland Propane. While she was reluctantly preforming trivial tasks for Hank, she runs into another former teacher, Claire who tells her, she is interviewing for Spanish teaching position at a Catholic school. When Claire said she did not get the job because only Catholic nuns are eligible, Peggy poses as one and interviews for the job. In addition to not being a nun, Peggy falsifies her resume to say she has worked in the missionary field, which bamboozles the nuns into hiring her. Peggy enjoys the job at the Catholic school as the students are more serious about learning Spanish than the public school kids. However, Peggy is concerned about her facade when the students ask Catholic-related questions she cannot answer, and is worried if her job is worth having the kids being led off their faith. Distraught, she soon reveals herself as a Methodist to the headmistress, and is immediately fired for lying.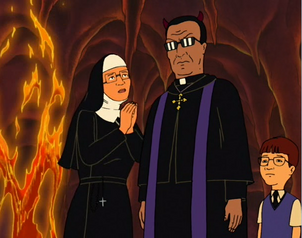 Characters
Quotes
PEGGY: Bobby Hill, put that phone down! The school could be calling me in to sub at any moment. What if an algebra teacher died in a car accident? It would be a tragedy if they couldn't reach me.
MOTHER SUPERIOR: May I see your resume?
PEGGY: Oh. My resume is... is written on the smiling faces of the children of El Salvador, where I did my most recent nunning.
DANNY(student): Sister Peggy, does God have a last name?
PEGGY: I would have to say no. He only has one name, like Cher.
TERESA: Sister Peggy, if cats can't pray, do they still go to heaven?
PEGGY: Well, I am not sure where I heard this, but all dogs go to heaven. So I am sure that cats do not.
PEGGY: This is easily the most rewarding job I have ever had.
MOTHER SUPERIOR: More rewarding than teaching crippled children to walk in El Salvador?
PEGGY: Tons more.
NIGHTMARE HANK: That's a clean burning hell, I tell you what.
References
The episode title is a pun on the young adult novel Are You There God? It's Me, Margaret by Judy Blume. (Peggy's real first name is Margaret.)
When Hank says "At least when Whoopi Goldberg posed as a nun, she was hiding from gangsters". This is a reference to the 1992 movie Sister Act. Kathy Najimy (who voices Peggy) played Sister Mary Patrick in that movie and it's sequel Sister Act 2: Back in the Habit.

Ad blocker interference detected!
Wikia is a free-to-use site that makes money from advertising. We have a modified experience for viewers using ad blockers

Wikia is not accessible if you've made further modifications. Remove the custom ad blocker rule(s) and the page will load as expected.