The 1999 Ford F-250 Super Duty truck was purchased from
Pick-Up Truck Heaven
in west Durndell in
Chasing Bobby
after his Ford Ranger was destroyed by a train when it was stuck on the rails.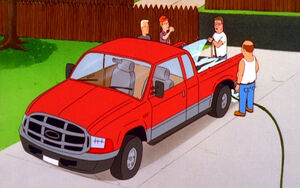 The truck has many features including anti-lock brakes, a digital compass, four wheel drive, and headlight wipers. It also has seat warmers and passenger air bag and vanity mirror. Hank decided to purchase the truck after he found the features on it were helpful when he first test drove it to find Bobby in a rainstorm after blaming him for destroying the previous one. He still keeps his original truck's gear shift knob in it to remember his old truck.
Ad blocker interference detected!
Wikia is a free-to-use site that makes money from advertising. We have a modified experience for viewers using ad blockers

Wikia is not accessible if you've made further modifications. Remove the custom ad blocker rule(s) and the page will load as expected.