The 1993 Ford Ranger was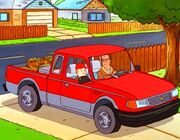 a pickup truck that
Hank Hill
owned for almost 20 years and emotionally attached to it as well as Bobby. He traded in the Maverick he owned for it and Peggy loved it despite threating to divorce him. It is red and it has the dashboard of a 1993-94 Ranger, but the grille resembles the grille of a 1995-97 sometimes. Hank's Ranger was a 1986, rather than the 1993, in the final episode it was in.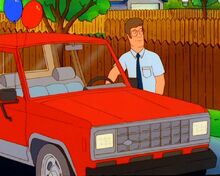 In Season 5 Chasing Bobby the truck started breaking down repeatedly and Hank refuses to accept it after the mechanic claims it only has 500 miles left. Hank did everything possible to save her including buying new parts and tuning up the engine. Despite everything the transmission was shot, engine mounts were rusted, and the engine kept catching on fire. Bobby attempted to help having his dad take it to a shop called Pick-Up Truck Heaven but it turned out to be a car dealership. During the trip to and back the truck kept backfiring and finally failed on a train track. Hank attempted to fix it but it wouldn't start and the truck was destroyed by an oncoming train. Bobby later finds the gear shift knob admits that the truck possible died on the tracks as it accepted it was finished and told Hank to move on and get a new truck. Hank finally accepted his old truck is gone and bought the 1999 Ford F-250 Super Duty from Pick Up Truck Heaven. To honor the memory of his old truck Hank keeps the Ranger's gear shift knob in place of the new one's.
Ad blocker interference detected!
Wikia is a free-to-use site that makes money from advertising. We have a modified experience for viewers using ad blockers

Wikia is not accessible if you've made further modifications. Remove the custom ad blocker rule(s) and the page will load as expected.